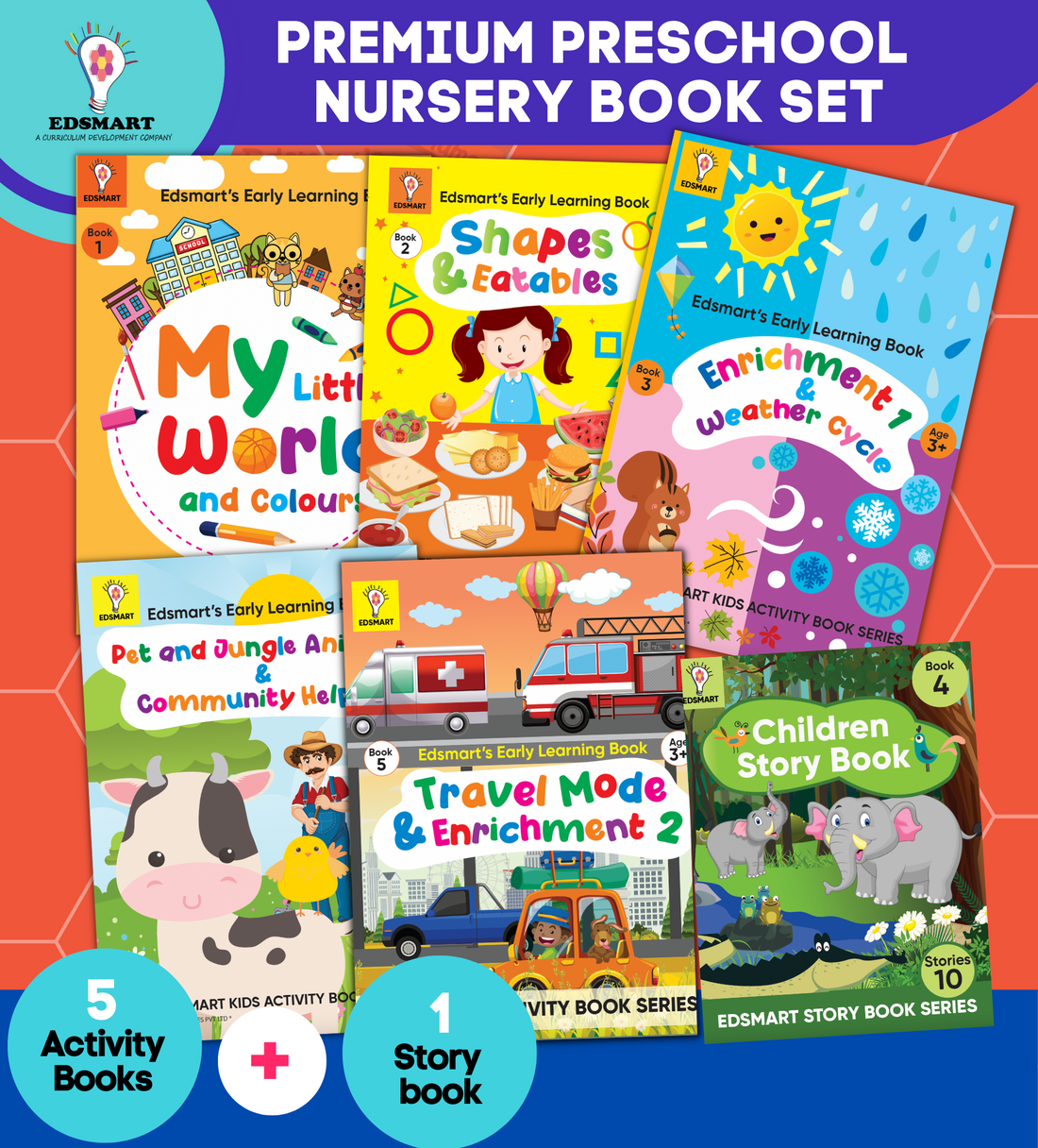 Pre school kids learning kit for 3 years old (Set of 5 creatives learning activity books + 1 Children Story book ) BEST for preschool learning
Regular price

Rs. 1,250.00

Regular price

Rs. 1,500.00

Sale price

Rs. 1,250.00

Unit price

per
Edsmart Nursery Activity book for 3 year old for children of preschool age. The books for 3 year old children  come with compelling print-rich illustrations, and international standards that opens up the child to a whole new world;These books are not just the coloring book for kids 3 years and worksheets as the child gets to work with different materials, making a way to the child s imagination, creativity, and building the connection between the child and the environment. The pre nursery books for kids activities also enchaces sensorial development, pincer-grip and eye-hand coordination of the child.
This preschool nursery book set contains:
1. My little world and Colors P2 activity books for nursery kids, to learn about the place and surrounding they live, about family, friends, teachers, self-hygiene, colors both primary and secondary colors, the science of secondary color formation.
2. Shapes and Eatables P2 kids activity book for 3 years- The learning books for 3 year old include geometrical shapes one of the important pre math skills Children learn shapes like circle, semi-circle, triangle,square,rectangle,rhombus,oval,etc.
3. Enrich activities and Weather cycle activity books for nursery kids, the kids learning books will encourage kids to learn about sunny day, temperature, rainy day, freezing weather etc and revise the activities and concepts.
4. Pet & Jungle animals and Community helpers kids books for 3 year old- This nursery worksheets gives the early exposure to the children on Pet and Jungle animals. and community helpers and their service.
5. Transport mode and Enrichment book for kids 3 years old - Vroom-Vroom, is the line during the early years. Children will learn about travel modes and vehicles
7. Edsmart Nursery kids story book - The Edsmart Children story books are unique and helps children to develop essential life skills like cooperation, empathy, and emotion
Hurrify, only a few left:
Wishlist
Add to Wishlist
Compare
Add to Compare
Currently there are
peoples are currently looking at this product
Pre school kids learning kit for 3 years old (Set of 5 creatives learning activity books + 1 Children Story book ) BEST for preschool learning
Regular price

Rs. 1,250.00

Regular price

Rs. 1,500.00

Sale price

Rs. 1,250.00

Unit price

per