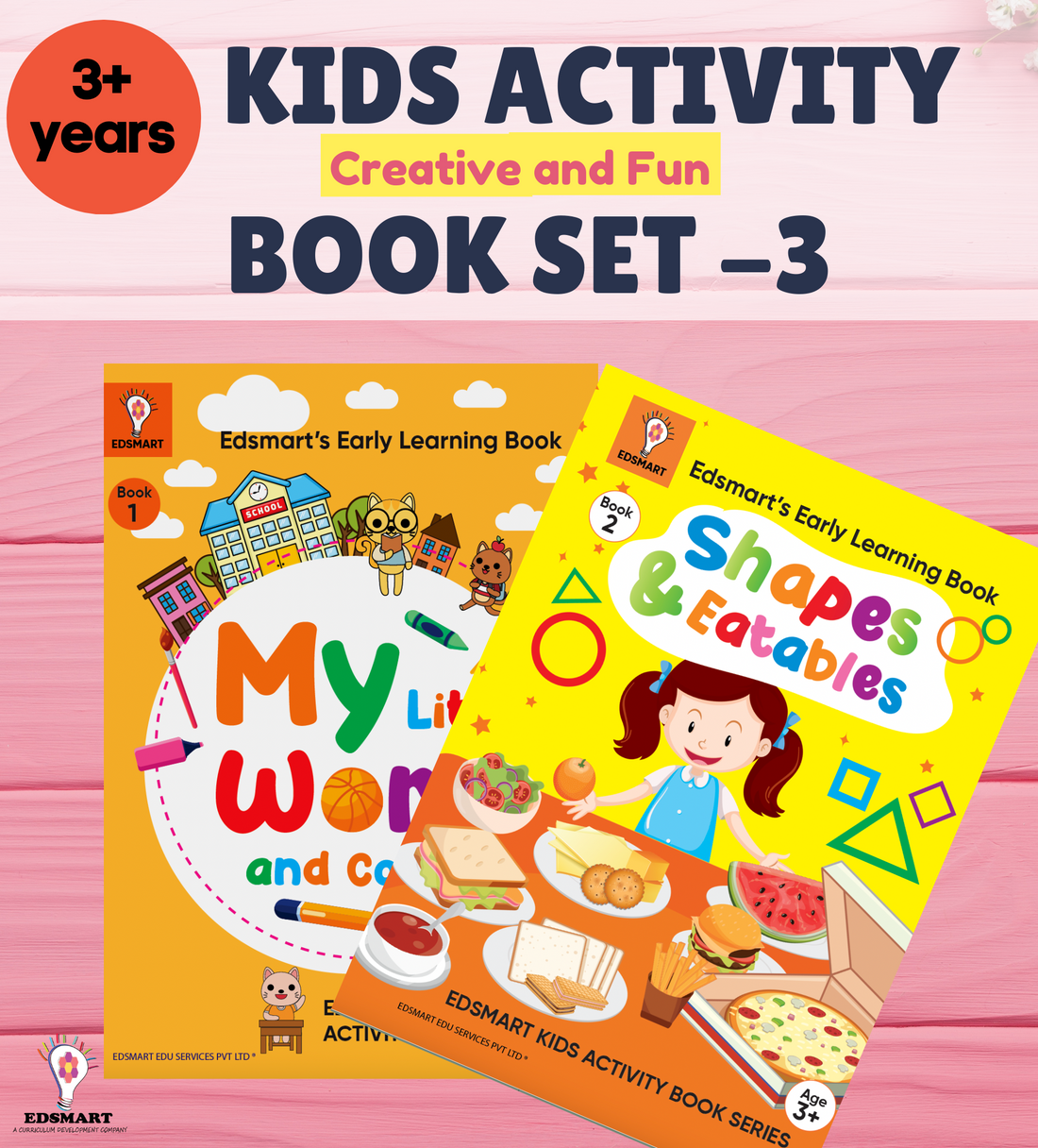 Pre school books for kids - Set of 2 Activity books for 3 years /Teaches 4 creative kids learning Themes ( My Little World, Colors, Shapes, Eatables)
Regular price

Rs. 320.00

Sale price

Rs. 250.00

Unit price

per
The books help children learn: 
1. Nursery Science EVS topics, to learn about the place and surrounding they live, to learn about family, friends, teachers, self-hygiene and other important life skills, children are introduced to colors both primary and secondary colors, the science of secondary color formation, examples of secondary color. The activities include geometrical shapes one of the important pre-math skills the child introduced early on. All the activities to learn the concept of the shape are engaging, exploring and involve experiential learning. Children learn shapes like circle, semi-circle, triangle, square, rectangle, rhombus, oval, etc. The activities include examples which children can relate well and rich illustrations not only attract the children but also make them to be better observers. The activity worksheets provides the knowledge helping children to quench their curiosity of using theme-based innovative and creative activities. 
2.Nursery Mathematics /early numeracy topics like big and small, sorting, grouping, classification, understanding quantity, and much more. 
3. Edsmart Kids Activity book set covers 4 themes Shapes, Eatables, Pet & Jungle Animals, and Community Helpers 
The Edsmart Kids Activity book set nurtures child's IQ Levels and EQ levels while they practice these activity worksheets. 
This Book set has the following Edsmart Activity Book titles:
1. My little world and colors P2
2. Shapes and Eatables P2 
Hurrify, only a few left:
Wishlist
Add to Wishlist
Compare
Add to Compare
Currently there are
peoples are currently looking at this product

Pre school books for kids - Set of 2 Activity books for 3 years /Teaches 4 creative kids learning Themes ( My Little World, Colors, Shapes, Eatables)
Regular price

Rs. 320.00

Sale price

Rs. 250.00

Unit price

per