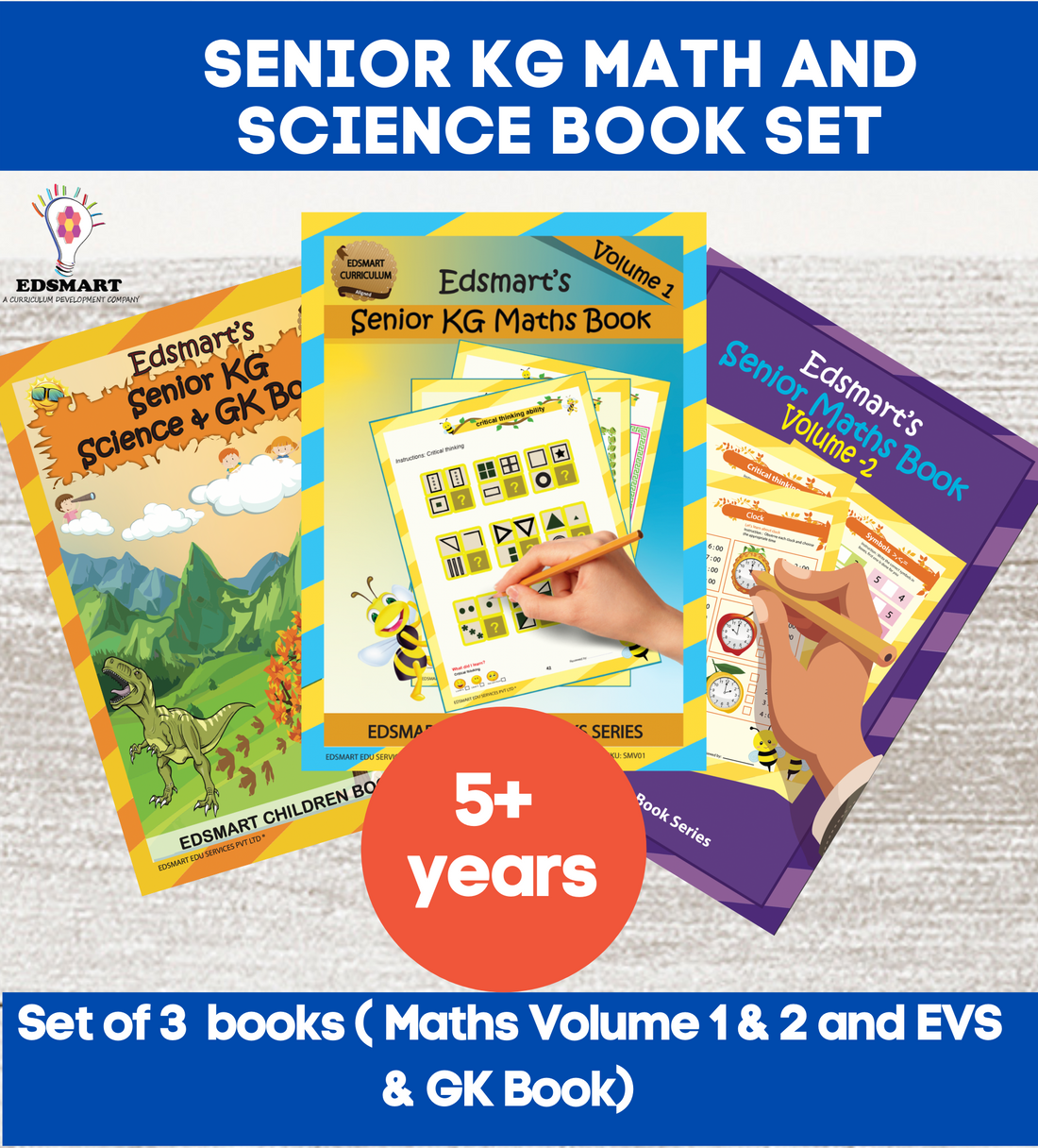 Senior KG Maths and Science GK Books/ UKG CBSE Maths and Science Workbooks/ Upper Kindergarten Maths worksheets for 5 years old/ UKG GK book
Regular price

Rs. 1,210.00

Sale price

Rs. 750.00

Unit price

per
Edsmart Senior Maths and EVS book set is suitable for 5+ years or higher for children of kindergarten age.  The books are covering the concepts which are aligning to the CBSE curriculum. The books come with compelling print-rich illustrations, best paper quality, and international standards that opens up the child to a whole new world.  The worksheets enhance multi skill development of math concepts and lay a strong foundation. The activities also shed light on enhancing the sensorial development, motor development, and cognitive development  of the child. 

Maths Senior Kindergarten Volume 1 and 2 book focuses on fundamental concepts required for the age group 5 to 6 years. This book emphasizes different facets of Mathematics like analytical thinking, reasoning skills, problem-solving skills, inference ability, numeracy, Number writing, Place Values, etc. A child's cognitive ability will be highly influenced by Mathematical skills which are attributed by well-designed activities in this book. All the worksheets are made stimulating to create a lot of curiosity in a child's thinking. We pledge to provide math made easy and simple illustrated book to make it fun filling. 

This Science and GK workbook quenches the curiosity of the young budding scientists by encouraging the self-exploration, observation, experimentation and understanding scientific principles. The book dives into the Animal ecosytem, Planet Earth, Life Cycle of Insects, Animal Tracks, Sounds, Photosynthesis, Water Cycle, Telephone, Sources of Electricity, Directions, Shadows, Volcano, Continents, and  Landforms. In addition, this enriched workbook also shapes the young minds on nature-related concepts and serves as food for thought. Learning Science and GK was never this splendid before. The children will have a magical and scientific journey with their nose buried into the book of fascinating & radiant illustrations and striking concepts. 
Hurrify, only a few left:
Wishlist
Add to Wishlist
Compare
Add to Compare
Currently there are
peoples are currently looking at this product

Senior KG Maths and Science GK Books/ UKG CBSE Maths and Science Workbooks/ Upper Kindergarten Maths worksheets for 5 years old/ UKG GK book
Regular price

Rs. 1,210.00

Sale price

Rs. 750.00

Unit price

per